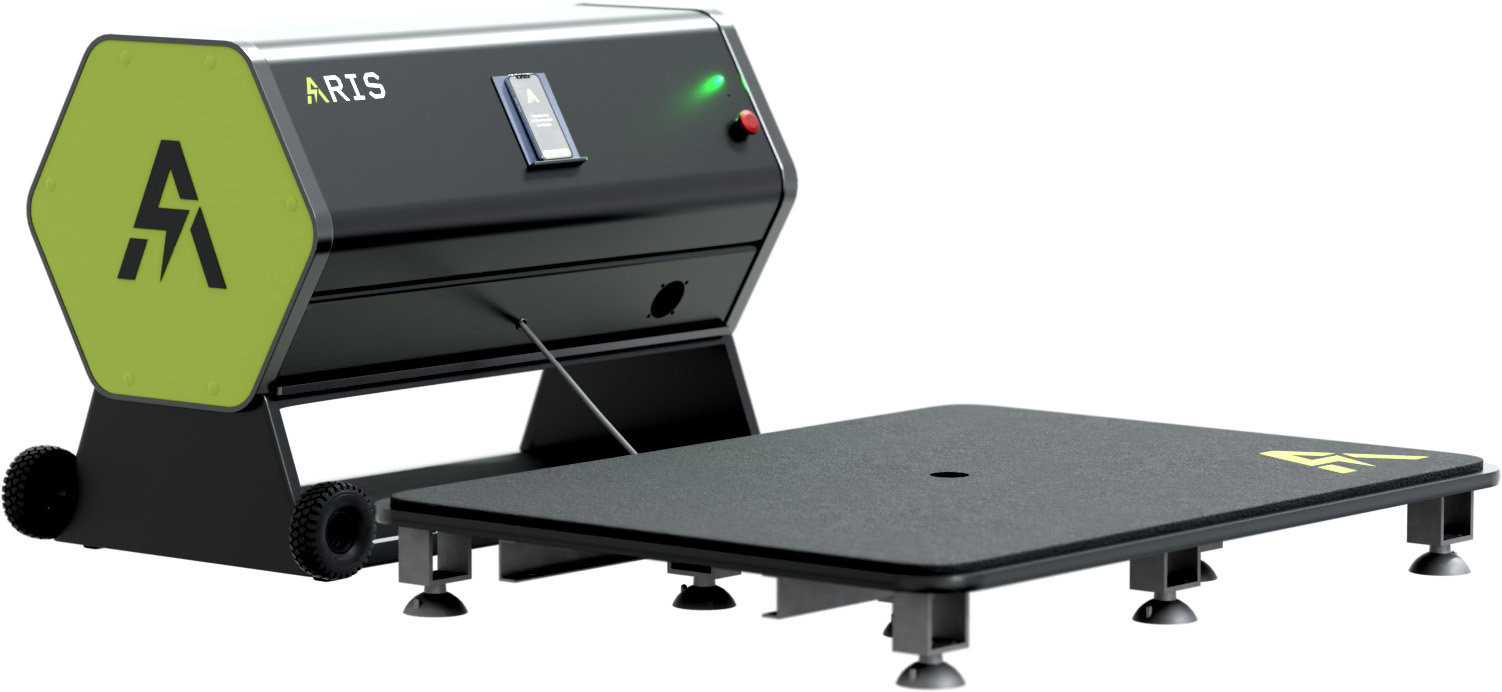 FREE accessories included: • ArisBelt • ArisPlatform • ArisGrips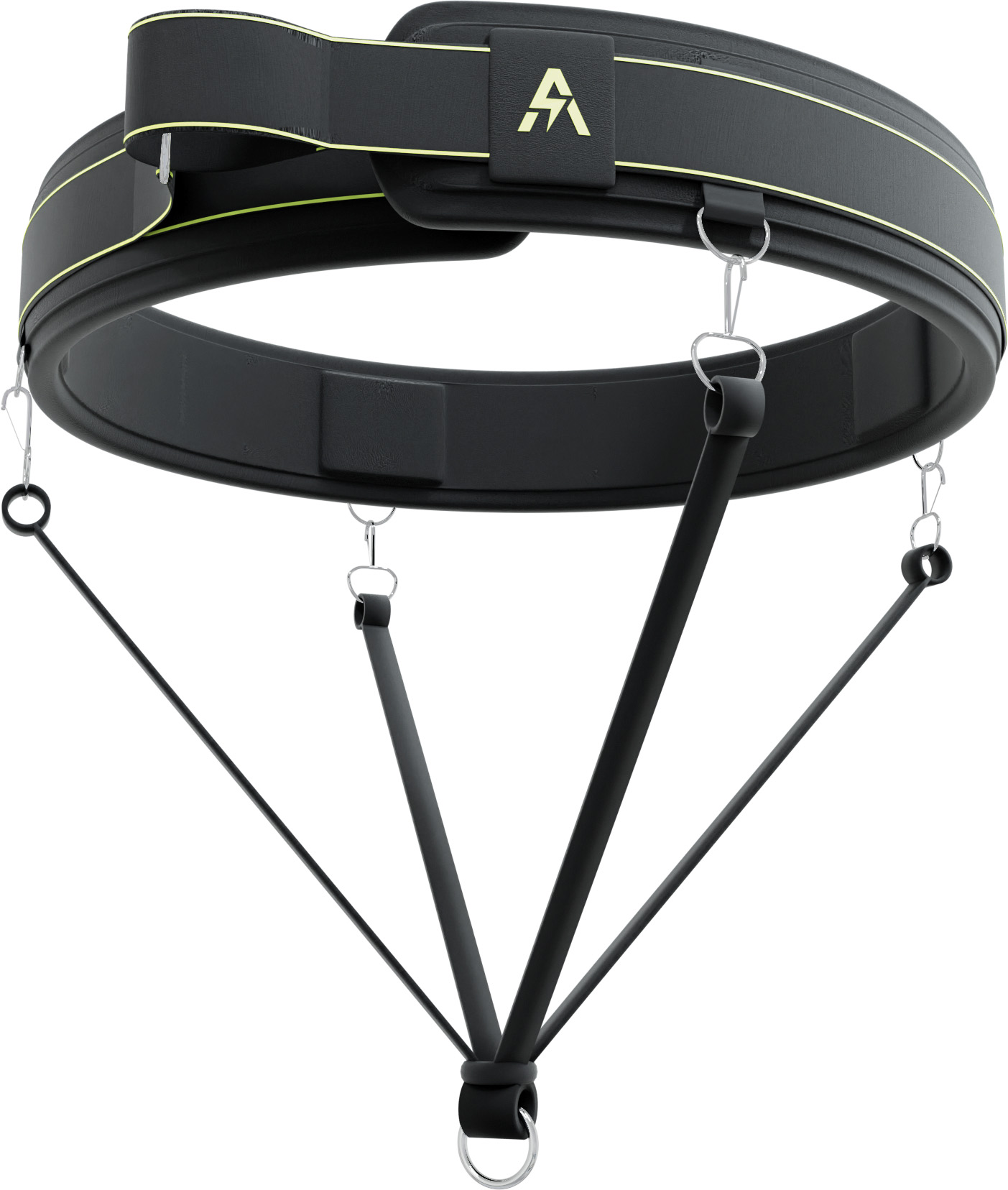 ArisBelt
Black in-seam 280º belt.
ArisBelt was developed and tested specifically for Aris. The built-in pillow like padding makes it comfortable for maximum resistance training. It the most ideal attachment for vertical jumping and lower body drills.
Members experience maximum center-of-gravity alignment with resistance. This feature promotes safety for all ages. The 280 degrees rotational range enables members to make resisted and sudden change of direction.
ArisBelt comes with two harnesses, two long around-thigh-straps. Harnesses adjust to varying in-seam measurements. Snap hooks and carabiners connections expedite transition between drills.

Accessory Pack
Grip Handles
ArisGrip features super strong ABS plastic, thick rubber grips, industrial grade stitching, extra-large seamless steel O-rings, and thick woven nylon webbing. Fit for many strength or rotational exercises.
Curling Rope
ArisCurl is a universal attachment that is ideal for arm and upper body workouts. It features solid rubber ends for an easy, slip-free grip. Made of steel, durable braided nylon and rubber. Measures 27 inches from end to end and it is 1 inch thick.
Training Bar
ArisBar is a commercial grade and solid steel design with chrome finish and knurled grip. It swivels for versatile uses including deadlifts, curls and presses. It weighs 6 pounds and measures 22 inches.
Add Extra Accessories
Each ArisPro comes with an ArisBelt and Accessory Pack. If you'd like to add additional belts or grips, you can do so here. Aris recommends at least one belt per athlete that will be using ArisPro.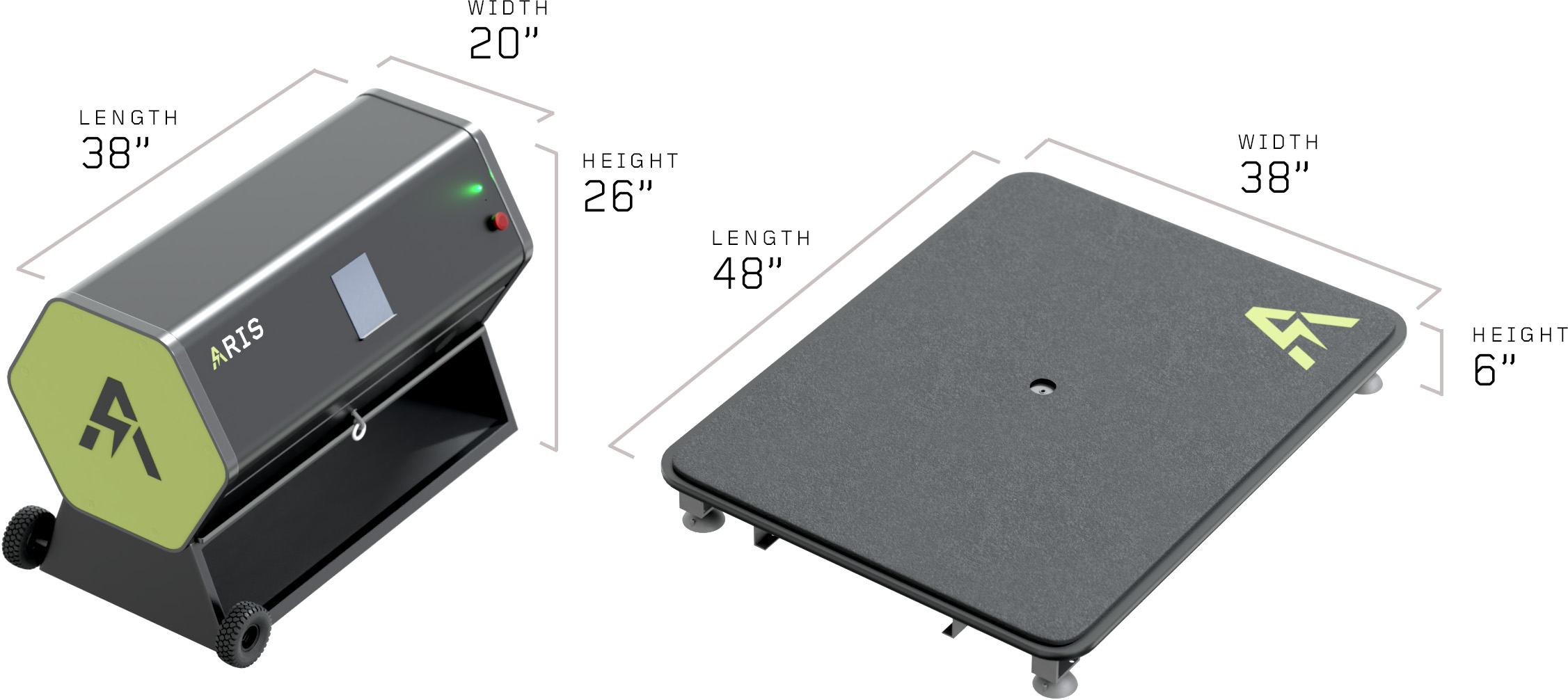 Feature Specs

Training Range: 30 yards
Torque Resistance: 100 pounds
Maximum Speed: 34 ft/sec
✓ Direct Wi-Fi Link
✓ Safety Zones Alerts
✓ Drill Distance Sounds
✓ 110V
ArisPro
Dimensions: 38" x 20" x 26"
Weight: 220 lbs.
Maximum Resistance: 100 lbs.
ArisPlatform
Dimensions: 48" x 38" x 6"
Weight: 70 lbs.
Maximum Resistance: 100 lbs.
Training Space Requirements
Up to 60 Linear Feet
Up to 11 Vertical Feet
Software Requirements
ArisApp (Free download on the iOS App Store or Google Play Store)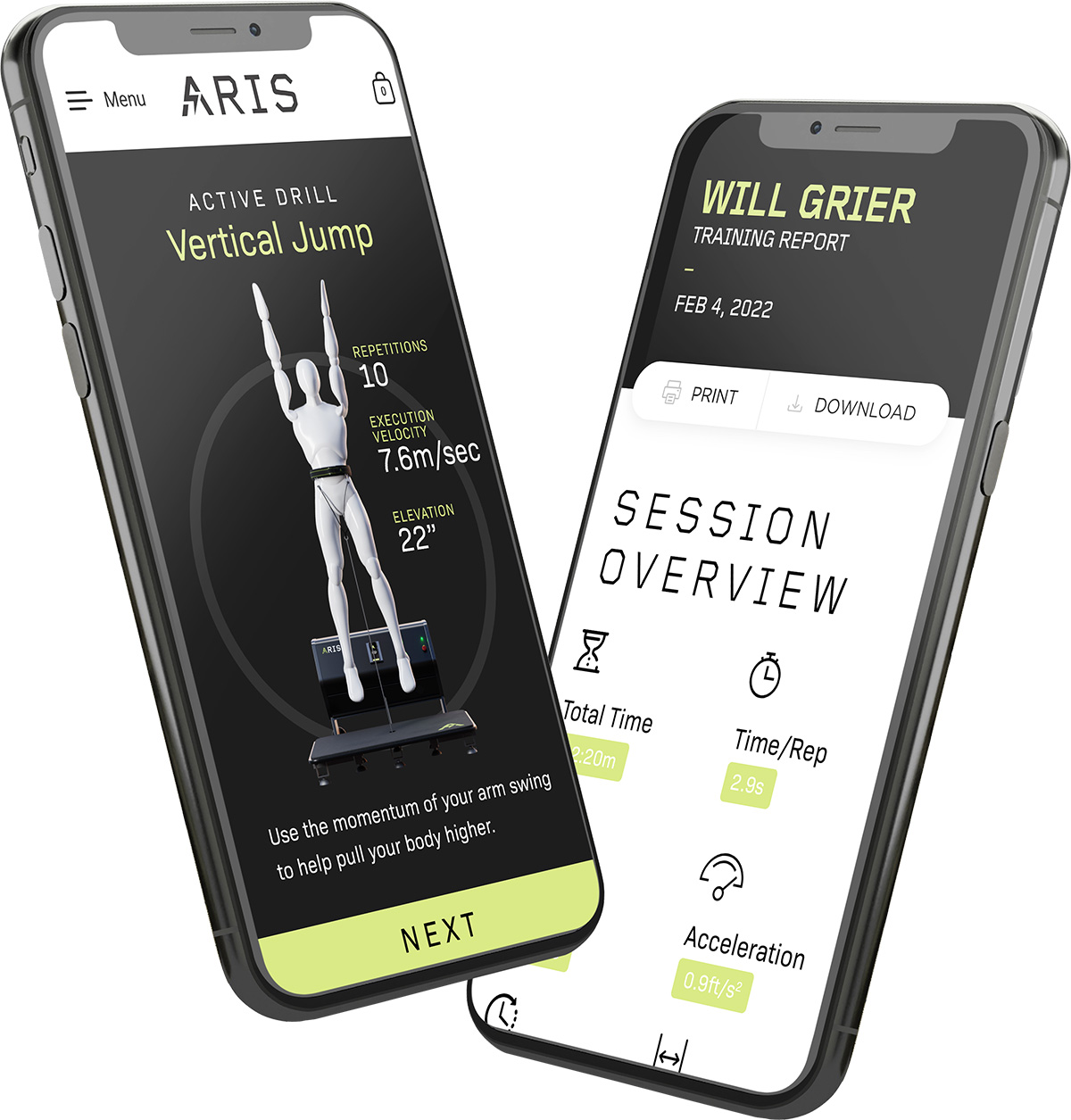 ArisApp
Testing, Teaching, Training, & Tracking
On testing, ArisPro provides a complete athletic assessment of vertical jumping elevation, speed and agility time and horizontal jumps distance. Performance measurements include execution velocity.
On teaching, elite sport-specific coaches stream technical and form execution instructions on ArisApp. Instructions promote a higher return on body movement while reducing the risk of injury.
On training, ArisIntel (Coming 2024), Aris's proprietary AI engine produces personalized training programs. Programs are designed based on bio profile, ArisPro athletic test scores, days available to train, areas of gain prioritization (Vertical jumping, Agility, Speed and Horizontal jumping, and desired gains date. ArisIntel adapt program by continuously monitoring attendance and execution velocity.
On tracking, ArisPro tracks drills, repetitions and execution velocity by repetition and average by drill. Reports include shareable combine/evaluation reports and session reports.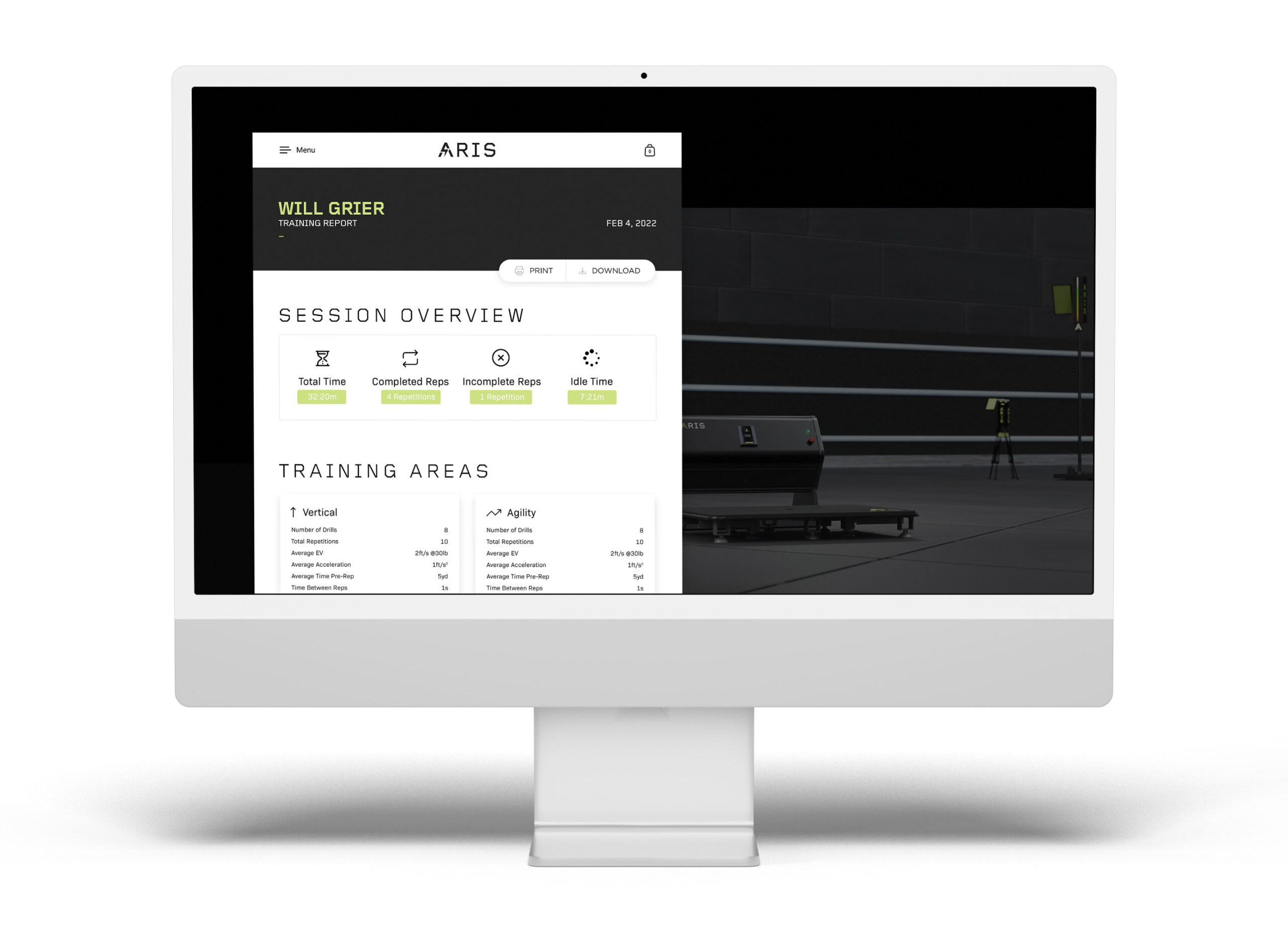 ArisFreestyle
Up to 50 Athletes
$300/mo
Advanced Training Programs
ArisFreestyle allows training facilities to create and manage multiple locations. Each location includes role assignments such as coach, strength and conditioning or more. A coach can be assigned members. Members can be assigned drills. Coaches can view training reports on ArisFreestyle and members on both ArisApp and ArisFreestyle.